PHILIP WESTIN
Philip Westin received Bachelor of Music degrees in Composition and Church/Choral Music in 1968 from the University of Southern California. In 1970, he earned the Master of Music degree in Composition from USC. At USC, Westin first studied composition privately with Robert Linn and later Halsey Stevens. He then began a lengthy period of private study with his mentor, Ingolf Dahl. He also studied conducting with Dahl, Walter Duclou, Daniel Lewis and Charles C. Hirt. Following Dahl's untimely death, he continued private composition study for three years with composer Roy Harris.

In 1985, Westin decided to pursue his doctorate degree in Educational Leadership, and he completed the degree at the University of La Verne in 1990. In 1992, he earned a post-doctoral certificate in the Management of Lifelong Education at Harvard University.
COMPOSITION
While at Cerritos College, Westin was commissioned to compose works by numerous organizations, including the California Wind Symphony, Eastern Brass Quintet, California State University Long Beach, St. John's Episcopal Church in Los Angeles, and pianist Robert Bowman. In addition, he was asked by composer William Schuman to orchestrate the 2nd and 3rd movements of that composer's orchestral work, Credendum, for Symphonic Wind Ensemble. The work was premiered by the California Wind Symphony at the Dorothy Chandler Pavilion of the Los Angeles Music Center with Westin conducting and Schuman in attendance.

Upon his retirement from educational leadership positions, Westin again became active in composing. In 2007, he wrote the music for a full-length operetta, Heartland, which was subsequently realized in a studio demonstration recording. In April, 2008, Heartland was one of four works selected in a national competition to be presented at the ASCAP/Disney Musical Theatre Workshop at Disney Studios in Burbank, led by Grammy and Academy Award-winning composer Stephen Schwartz. In the summer of 2008, he was commissioned by Hector Salazar and the Carson-Dominguez Hills Symphony Orchestra to compose a work to introduce children to the symphony orchestra, Timothy and the Magic Garden, which was premiered in February 2009. After the success of the ASCAP/Disney Musical Theatre Workshop, he was asked by Center Stage Opera to turn Heartland into a full-fledged, two act opera, Marie's Orchard (please reference other pages on this site regarding the opera).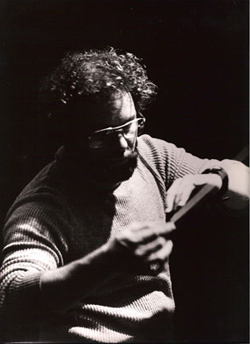 CONDUCTING

As a conductor in the 1970s and '80s, Westin was well known in the greater Los Angeles area through performances of several organizations, including the Los Angeles Chamber Chorale, which performed at the Mark Taper Forum of the Los Angeles Music Center and other venues. Westin later founded and was Music Director of the California Wind Symphony, which performed in the Dorothy Chandler Pavilion of the Los Angeles Music Center. As a professional wind ensemble specializing in 20th century American works, the California Wind Symphony was the recipient of a major grant from the Rockefeller Foundation. The Wind Symphony's Board of Advisors was comprised of many of the leading composers of the day, including Aaron Copland, Elmer Bernstein, Norman Dello Joio, John Green, Karl Husa, Bronislaw Kaper, Howard Hanson, Roy Harris, Henry Mancini, Ron Nelson, Vincent Persichetti, Walter Piston, Lalo Schifrin, William Schuman, Roger Sessions, Virgil Thomson, and John Williams (partial listing).

In addition to conducting the Los Angeles Chamber Chorale and California Wind Symphony, Westin was active conducting in the pit at Cerritos College and the La Mirada Civic Theatre. He conducted multiple performances of West Side Story, A Little Night Music, Fiddler on the Roof, and Man of La Mancha, among others, and in 1979, he conducted a fully-staged production of Leonard Bernstein's Mass with a cast of over 300.

In 1978, Westin formed the critically acclaimed Master Symphony Orchestra, which played subscription series at Ambassador Auditorium in Pasadena, Bridges Auditorium in Pomona, El Camino College Center for the Arts in Torrance, Wash Memorial Auditorium in Santa Ana and the Arlington Theater in Santa Barbara. Soloists with the MSO included Martina Arroyo, Carlo Bergonzi, Marvellee Cariaga, John Cheek, Horacio Gutieriez, Daniel Heifetz, Peter Nero, Leonard Pennario, Roberta Peters, Daniel Pollack, Kenneth Sandford,and Arnold Voketaitis (partial listing). Under his baton, the MSO performed major symphonic works, choral orchestral works, and opera, including Aida, Il Trovatore, Die Fledermaus, and others.
TEACHING
Westin taught music full time at Cerritos College for sixteen years, and was Chair of the Music Department for 14 of those years. During his tenure, he conducted the Cerritos College Symphony Orchestra and Cerritos Master Chorale, and taught advanced Music Theory, Counterpoint, Orchestration, Piano, and Music History. He was also a frequent lecturer and conductor at Brown University, the University of Wisconsin Milwaukee, Wayne State University, California State University Chico, California State University Long Beach, and California State University Los Angeles. In addition, for two years he served as an adjunct professor in the Educational Leadership doctoral program at Pepperdine University.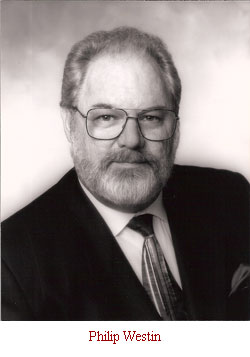 EDUCATIONAL LEADERSHIP
After leaving Cerritos College in 1986, Westin assumed the positions of Dean of Fine Arts and Executive Director, Center for the Arts at El Camino College. In 1992 he accepted the position of Vice President of Instruction at Golden West College in Huntington Beach, and in 1994 he was inaugurated President of Golden West College. Finally, from 1996 until his retirement in 2003, Westin served as Chancellor for the Ventura County Community College District, where he was in charge of its three comprehensive colleges and numerous educational centers.